More ways to shop. More ways to grow.
Welcome to the new PestWeb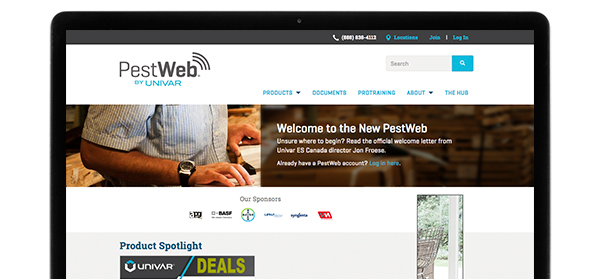 On behalf of all of Univar ES Canada, I'm proud to announce the launch of the newly enhanced PestWeb.ca - your new home for information and insights on every pest.
When you visit the site, you'll still find instant access to all your favorite features from ProVMWeb and our previous PestWeb site. But you'll also find an expanded selection of products, tools, and support for markets including structural pest, vegetation management, wildlife management, and turf and ornamental.
PestWeb.ca is also your portal to MyUnivar - our all-new ecommerce site for ordering products online. View your previous Univar purchases and restock your supplies with a few quick clicks - anytime, anywhere, from virtually any device.
We recognize that many of you are expanding and exploring new services and markets. So we grew and evolved PestWeb too. The new site simplifies every stage of the research and purchasing process, providing every product and resource for growing your business - all in one place.
So whether your pest in question is a weed, rodent, insect, or plant disease, you can always turn to PestWeb to find anything and everything you need.
Thank you for your support. We hope you enjoy the new PestWeb.
Jon Froese, Director
Univar Environmental Sciences - Canada
---
View other articles in this category: